Leather Kilts
Our leather kilts are popular in every European country because we make these kilts with the original material. We build beautiful leather kilts in simple and modern designs for our customers. Some leather kilts have only straps, but some of the kilts have every utility things such as buttons, pockets, belt loops, and chains to make these leather utility kilts different from other leather kilts.
Vintage Leather Kilt
This leather kilt for big guys who knows the importance of original material. This stylish leather utility kilt is much better and modern than pants or trousers. We make it different by attaching unique design brass buttons. These buttons not only help in fastening the leather utility kilt, but also makes a kilt more beautiful.
Features of the Leather Utility Kilt
Have a look at the unique features of this kilt
Original Leather Skin

Brass buttons

Sewn Pleats Professionally

Double Stitching

Customization Facility

Fast And Secure shipment
Material Quality
We already discussed above the quality of the material of the leather material. Every material object which you find in this kilt made with the original article. We make this leather kilt for big guys more durable by double-stitching the kilt. 
Customized Kilt
This is the customized kilt in which our efficient makers can make any necessary changes according to the wishes of the customers. Our makers can change the color, design, and add more buttons without any problem.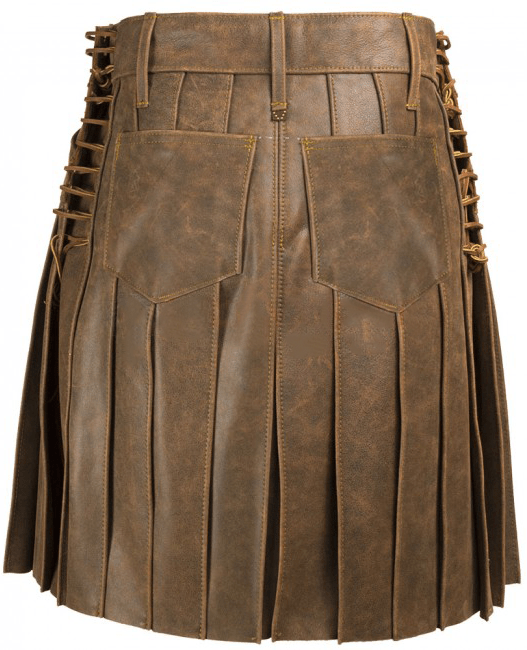 Better Price
This dark brown leather utility kilt is available for sale at a reasonable price. Our prices are always lower than the cost of other kilt shops, so buy now and wear an upcoming event.